COSMOS HOTEL, MOSCOW
Book at official website offers:
How to get to the hotel
Show on the map
---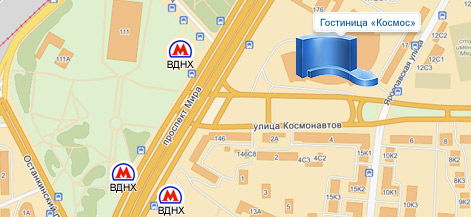 Hotel address:150, Prospect Mira, Moscow, 129366, Russia
By car: Show routes
From the сity сenter: 15 min.
From Vnukovo airport (VKO): 50 min.
From Domodedovo airport (DMO): 1 hour.
From Sheremetyevo airport (SVO-1, SVO-2): 35 min.
By metro: metro station "VDNKh". Metro scheme
Way out from the last wagon, then along the subway.