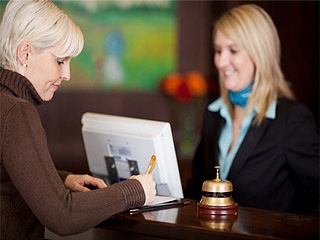 Do you prefer to pay for the service after receiving it? Then this type of reservation is for you. You can reserve a room and make a payment upon arrival. Reservation without payment is an easy and quick way to take care of your accommodation in advance without spending a single ruble.
The "Cosmos" hotel offers this option also for those who cannot or will not consider it convenient to use the proposed methods of prepayment.
If there are any changes in plans before the trip and the guest has to cancel a reservation, the paid deposit will be refunded*. However, the banking transfer will take a rather long time. In case of cancellation without any prepayment, the customer pays nothing and looses nothing.
Those who choose to pay on arrival should know that this reservation option has some limitations. In that case not all special offers of the hotel "Cosmos" will be valid. Also please note that this method of payment is "less guaranteed": the reserved room will be canceled, if the guest will arrive later than 18:00pm (Moscow time). In this case, the only option to be accommodated will be choosing an available room at a "rack rate".
* The refund is available only if the cancellation was made more than a day before the arrival date (unless otherwise specified). In other cases, the hotel reserves the right to withhold part of the paid amount, equal to the cost of one day in the chosen room.