Cosmos Club 4*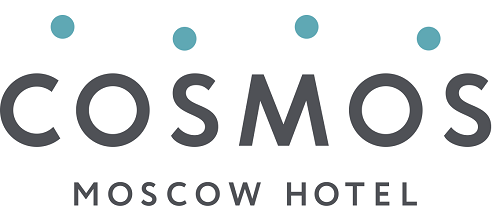 The legendary 25-floor Cosmos Hotel built under design of French architectors for the Moscow Olympic Games of 1980 has a perfect location on Mira Prospect, a major thoroughfare of the city, only 2 minutes away from VDNKh metro station and since the autumn of 2016 - just one stop away from the Moscow Central Circle. This new transportation line now makes it much quicker and easier to get to Cosmos from any part of the city, from the airport, a rail station or exhibition centers with great comfort.
On the north-east, the hotel complex adjoins the "Losiny Ostrov" national park - the "green lungs" of the capital. The country's main exhibition site - VDNKh - is located just opposite to Cosmos. The "Olimpiysky" sports complex is only 3 metro stops away ("Prospect Mira" station), the "Sokolniki" exhibition center is only 20 minutes away. It is also very convenient to get from here to the "Expocenter on Krasnaya Presnya". VDNKh - the 75th exhibitions pavilion - is only a 10 minutes walk away.
A peculiarity of this hotel is that it can provide hotel services under 3* and 4* standards according to accommodations classification of Russia in one and the same hotel building.
The hotel complex offers the Cosmos Hotel 3* (floors 4 to 23) and Cosmos Club Hotel 4* on the top-most floors 24 and 25 where you can enjoy the best views, rooms and services while using the well-developed infrastructure of the whole complex. Such concept gives a chance to vary accommodations for different kinds of customers while following the main principle which is providing the best service possible.
Cosmos Club Hotel 4* is located on the 24th and 25th floors of the hotel building (and is officially certified as 4*). It offers higher-quality rooms, improved service and magnificent viewes.
The hotel has 154 rooms, of which 3 rooms are of the highest category Grand Suite Representative and 151 rooms are of Business category (57 Twin and 94 DBL).  
Certificate of assigning the hotel "Cosmos Club" category 4 *

Cosmos Club offers additional proveleges for its guests:

Dedicated reception / priority service

Representative guest room / Panoramic restaurant "Cosmos Planet" on the 25th floor

A welcome drink (water upon arrival) in all rooms

Breakfast at "Cosmoc Planet" or buffet-type dinner at "Galaktika" restaurant, snacks and an assortment of refreshing and light alcoholic drinks at "Cosmos Planet" available 24h; desserts, fruits and hot drinks available 24h (included for Grand Suite Representative rooms). Breakfast is included for Business category rooms.

Access to Cosmos fitness center (included for rooms of categories Business and Grand Suite Representative) 
This bright business room features panoramic views of the city and a flat-screen TV. Air conditioning and fridge are offered. The private bathroom has free toiletries and a hairdryer.
In the room:
Wi-Fi
TV
Hairdryer
Two single or large double bed
Press for ironing trousers
Climate control system
Refrigerator
Orthopedic mattress
Coffee table
Mirror
Desk
Wardrobe
In bathroom:
Bath towels
Bath
Hygiene products
Cosmetic products
Bathroom
Slippers
Dressing gowns
This air-conditioned suite features a bedroom and a living room. A flat-screen TV, fridge and panoramic views are offered. The private bathroom has free toiletries and a hairdryer.
Guests have access to the fitness centre and executive lounge with snacks and beverages.
In a living room:
Upholstered furniture (sofa and 2 armchairs)
Coffee table
Newspaper, 2 chairs
Desktop
Wardrobe
A set of dishes
Telephone (including in the bathroom)
LCD television (Russian and foreign satellite channels)
Wi-Fi Internet access is free of charge
Central conditioning system
In the bedroom:
Large double bed (Orthopedic mattress)
Dressing table, mirror
Spacious wardrobe
Refrigerator
Telephone (including in the bathroom)
LCD television (Russian and Foreign satellite channels)
The central Conditioning
Trouser press
In bathroom:
Bath
Bidet
An expanded set of towels
Advanced set of cosmetic Accessories
Hairdryer
Bathrobe
Slippers